Subject
Getting started guide made with the intent to help Resellers getting started with ClusterPBX – you'll learn how to create client accounts, users and configure your first phone/softphone to make a call.
Intended Audience
Step-by-step guide
Create your first client account
About client accounts: ClusterPBX client accounts are used to group together items that can be billed to a single organization, along the settings and objects specific to that client:
Users (extension, VM)
Destination Alias (can be an extension,
DIDs (Phone Numbers)
Queues and Ring Groups
Ring Groups
IVRs (Digital receptionists)
Departments
etc.
Client accounts are free of charge – you can create as many as needed.
Details on ClusterPBX roles: Getting Started With a Reseller Account
The service comes with a pre-configured client called Sandbox by default, you can use this client account to perform initial product testing and try out features, it has nothing different compared to other client accounts you create.

If you want to create your own client account to make the initial connection, it's very simple.
Detailed instruction: Getting Started With a Reseller Account
Make your first call
Sandbox users can be used to make your first call using the Zoiper softphone application, by following the instructions below. Alternatively you can create a user account, it takes seconds to create one and connect to it using Zoiper to make your first call.
Connect under a user account:
Follow these steps if you want to create a user account from scratch: Getting Started With a Reseller Account
Click Users in the menu
Select an account in the list
Click the My Softphone entry in the navigation
Install Zoiper (preferably on your smartphone or tablet)
How to scan the QR code using Zoiper – press the QR code icon (

) on the dialpad screen or any version: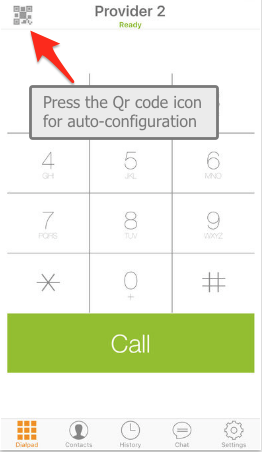 You are now ready to place your first call using our VoIP service – since the account comes with an 8$ credit and the first extensions are free of charge it truly is free to try the service, you have no obligation to enter any billing information.
If you wish to create a user account with your name on it.